Eida Batzmi
Eida Batzmia or Eida Piralli is one of the Yezidis many holidays. Yezidis are known as the worshipers of Sun (Roj Pars). Sun along with fire plays a large role in their rituals, festivals, and holidays. In addition number 7 plays a role representing the 7 angels. A small group of Yezidis, Yezidi a Chelkiy, celebrate Batzmi. They can be pirs or murids. Although it's Chelkiya' holiday, other Yezidis visit them and participate in the 7 day holiday in different ways.
The largest group of Yezidis who observe this holiday were originally from Turkey. They became scattered all over the world due to forced conversions and persecution throughout 1800s and early 1900s. Historically, just like Sinjar, Turkey was an ancestral land to many Yezidis. Today, there are less than 423 Yezidi residents there. Yezidism was the official religion of Jazra, a principality of Turkey during Ottoman Empire.
There is a large number of Yezidi a Chelkiy in Syria and there are some in Iraq who also observe this holiday.
It is believed that Tawsi Melek, the Peacock Angel, appeared to this group of Yezidis in form of Piralli. Thus, Piralli is manifestation of Tawsi Melek. When Piralli  came to this group, he spent 7 days among them and in turn they became people of Tawsi Melek (Bona Melet a Tawsi Melek). Batzmi festival is about celebration of being people of Tawsi Melek
Batzmi Festival
Batzmi is  a 7 day holiday and the actual celebration falls on the last Wednesday of December; thus making the holiday fall between the old and the new year. However, Yezidis in diaspora sometimes choose to celebrate it a week earlier due to work and school.
Monday: Day one of Roji (fasting)
Tuesday: Day two of fasting. cleaning and Nan a mrya (giving of food in honor of the deceased) takes place today.
Wednesday:  one of the most important days of this holiday.  There is a half day fast which is followed by lighting 7 chera (wick). Later in the day, a sheep or more is sacrificed and 7 Pare or pieces of meat are put away in the name of the 7 angels (mlyakat). The 7 pare include the 7 joints of the spin, the neck, 7 ribs on the right, the upper part of chest, and one of the legs on the right is cut into 3 parts making it a total of 7 pare or pieces
The Batzmi's special food is also prepared for the first time in the week. This meal would continue being prepared throughout the rest of the holiday in large amounts. However, on Wednesday the meal  includes 7 Sawgs (a special bread made round with shape of Sun on it). Simata Piralli a special soup made only at this time and has stayed the same for centuries. Basmbar is made today.  This is red and white which is prayed upon as it is being spanned.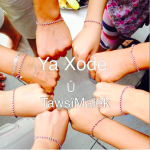 Thursday Night:  is the night of  Shav Baratk . Yezidi community gathers at the house of those observing Batzmi till sunrise. Since Yezidism is an oral tradition, times like Shav Baratk use to play a large role in affirmation of identity and learning about ones faith and history while being entertained.  Shav Baratk is a night full of fun, passing of knowledge, and eating.
In modern day and in diaspora, celebrating Batzmi is a bit more difficult. In there ancestral land, there would be communal gathering of common people, Yezidi Qewals or bards, and religious leaders. Part of the night would be spent reciting Yezidi qewals, hymns, and epics.
To keep the followers awake, there were many opportunities of entertainment. This would be a time of service,  so bands would offer play music to entertain the crowds who would gather for outdoor dancing. This would be followed by Karaoke and playing old games of Gostelgyy.
In addition, Galeg would be made. This is where an older man dresses in a scary way sometimes toward middle of night around one o'clock. A bulky man dresses in a scary outfit. He covers his face with black makeup and wanders around with a stick in his hand frightening the followers. Another one dresses as the bride. The sight of Galeg  wandering and pretending to strike the fire in the fire pit and playfully strike people around, would scare many of the observers awake. He would continue to proceed  and becomes especially frightening when his bride would be stolen from him.
Games, communal dancing and festivity goes on until sunrise. From there people wish the host happy holiday and depart.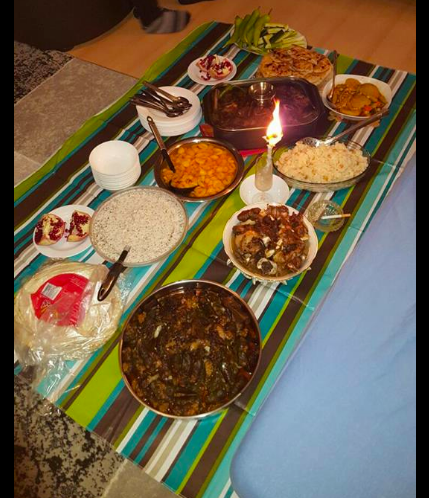 Friday:  this is a day of resting after a full night of entertaining; however, people come to visit the house of those who make Batzmi for prayer, to get Basmbar thread, and to kiss the Barats. Barats are small balls made of earth from the sanctuary of Sheikh Adi and the water of the Zemzem spring. They are regarded as sacred and are distributed to the pilgrims at the time of the festivals. They get served Sawgs and Simat
Saturday: prepare for Ser Sal or the new year, continue serving the visitors Batzmi meal. The Chera continue being lit. Those who visit leave some money as a token of the service the host had performed and take some of the sacred Basmbar that is worn on their wrist or neck.
Sunday: this is the last day and it is only in the morning.  Sunday morning is considered Ser Sal and the beginning of the new year. Tashtya Sheshms (Breakfast of Sheshms is prepared and those who visit eat. It is in honor of Sheykh Shems, one of the reincarnations of 7 angels who is associated with Sun/
Common way to wish the observer of this holiday a happy holiday is: Ser Sal a wa o Batzmiye wa Piroze be/Happy New Year and Batzmi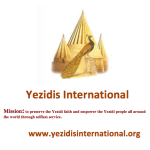 Social Share