The Yezidi diet includes a wide variety of fruits and vegetables. Lamb and chicken are the primary meats. Breakfast is typically flat bread, cheese, honey, sheep or cow yogurt, and a glass of tea. For lunch, lamb and vegetables are simmered in a tomato sauce to make a stew usually served with rice and savory dishes are usually served with rice or Naan. Their food is not much different from that of other groups in Middle East.
Marigha Bamia (Okra stew)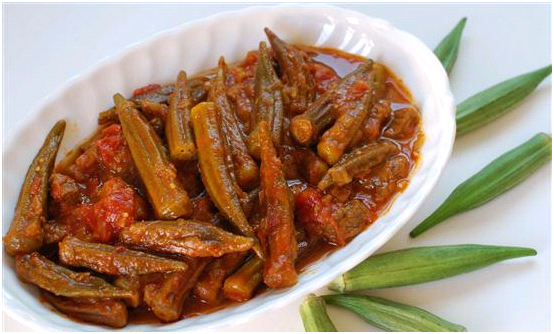 Ingredients
4 cups baby okra (fresh or frozen)
1 cup fresh cilantro (coriander leaves)
1 cup chopped onion
1 lb boneless chicken cut into cubes
5 cups plain tomato sauce
2 cups water
3 tbs minced garlic
2 tsp salt
1 tsp black pepper
7 tbs olive oil
Directions
On medium low heat, in a large 4 quart pot add 3 tbs olive oil, and okra, cook for 5 minutes. Next, add onions and cook for another 3-4 minutes. Remove okra and onions and set aside. In the same pot, add another 3-4 tbs of olive oil and chicken, cook for 5 minutes. Next, add garlic and cook for another 3-4 minutes. Then add the okra and onion mix to chicken and toss gently. Next, add tomato sauce, water, salt, black pepper and half of the cilantro and let simmer for 15 minutes.
Biryani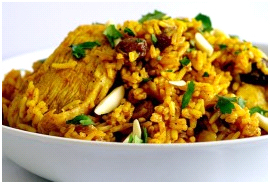 300 g basmati rice
25 g butter
1 large onion, finely sliced
1 bay leaf
3 cardamom pods
1 small cinnamon stick
1 teaspoon turmeric
4 chicken breasts, sliced
4 tablespoons curry paste
85 g raisins
850 ml chicken stock
coriander, chopped
sliced almonds
Directions:
1-Soak the rice in warm water, then wash in cold until the water runs clear.
2-Heat the butter in a saucepan and cook the onions with the bay leaf and other whole spices for 10 minutes. Sprinkle in the turmeric, then add chicken and curry paste; cook till aromatic.
3-Stir the rice into the pan with the raisins, then pour over the stock. Place a tight fitting lid on the pan and bring to a hard boil, then lower the heat to a minimum; cook the rice for another 5 minutes. Turn of the heat & leave for 10 minutes. Stir well, mixing through half the coriander.
4-To serve scatter over the rest of the coriander and the almonds.
 Epragh/Dolma (Stuffed grape leaves)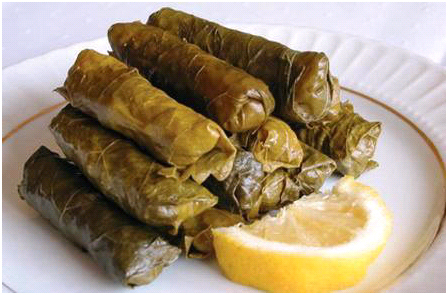 Makes 3 dozen rolls
Ingredients:
2 Tablespoons olive oil
2 medium onions, chopped
1 clove garlic, minced
1 cup uncooked long grain rice
4 scallions, finely chopped
2 Tablespoons finely chopped Italian parsley
2 Tablespoons minced fresh mint
1/2 teaspoon allspice
1 teaspoon salt
1/4 teaspoon freshly ground pepper
2/3 cup extra virgin olive oil
1/3 cup lemon juice
2/3 cup water, additional as needed
1 8-ounce jar of grape leaves in brine (2 if the leaves are small)
Directions:
Heat a large skillet for 20 seconds. Add 2 Tablespoons of olive oil and heat for 10 seconds. Sauté the onion for 5 minutes. Add the garlic, sauté until the onions are lightly golden, and place in a 2-quart mixing bowl.
Soak the separated grape leaves in a bowl of warm water for 5 minutes while you make the filling.
Add the rice, scallions,  parsley, mint,  and allspice,  to the onion mixture. Season with salt and pepper.
Remove the leaves from the bowl of water and rinse under cold running water. Separate the leaves and place them shiny side down on a board. If the leaves are small, place two together, overlapping at the stem end.
Place 2 teaspoons of the rice mixture near the stem end of the leaves and roll up the leaf once to cover the filling. Fold in both sides of the leaf and then tightly roll the leaf up toward the tip, making a neat roll.
Place some broken vine leaves  in the bottom of a 4-quart pot  (so the rolls won't stick to the bottom of the pan) and then arrange the rolls in the pot seam side down. Repeat with the remaining leaves and filling, piling the rolls on top of each other as necessary.
Combine the remaining 2/3 cup oil, lemon juice, 2/3 cup of water and pour the mixture over the rolls.
Place a weight (a heavy plate will do) on top of the rolls and simmer, covered, for 40 minutes. Check that the water mixture hasn't boiled off; if it has, add 1/2 cup water and cook another 10 minutes.
Cook for a total of 50 minutes, or until the rice in the rolls is tender
Zalata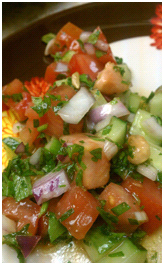 1 cup chopped  cucumber
1 cup chopped white onion
1 cup chopped tomato
2 tbs fresh chopped parsley
1/4 cup fresh chopped mint
1 tbs minced garlic
1/3 cup lemon juice
1/3 tsp salt
In a large bowl mix up all of the ingredients right before serving
Baklava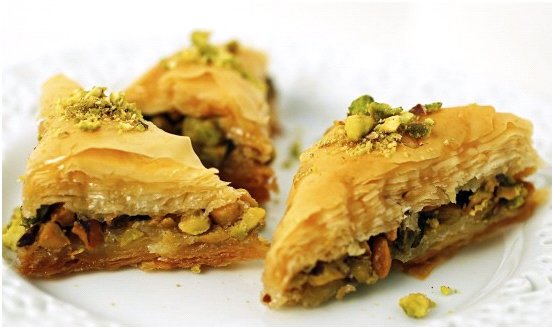 Ingredients
1 package philo dough
1 lb sweet cream butter melted
1 1/2 cups of finely chopped nuts of your choice
1/8 cup sugar
1/8 tsp cinnamon
1 tbs water
ground pistachio to decorate
Syrup:
2 cups sugar
1 cup water
2 tbs lemon juice
1 tbs Rose Water
Directions
Preheat the oven to 350 degrees. Mix nuts, cinnamon and sugar in a bowl.Butter each later of the philo dough and layer 4 sheets at a time then add nuts and repeat the layers. Cut the pastry into any shape, most commonly squares or diamond shape. Place in oven and cook for 30-45 minutes or until golden
brown. Drizzle the baklava while in the pan with the  syrup and then let cool completely before serving. Top each piece with ground pistachio.
Kulicha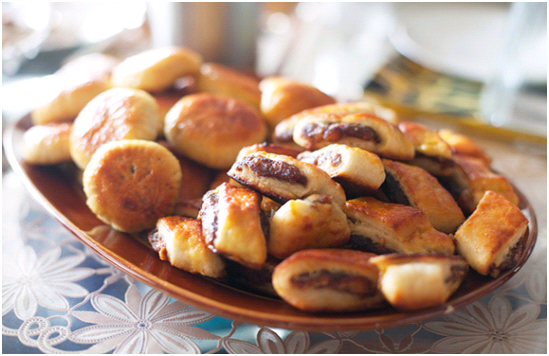 Ingredients:
2 lb flour
1 pack dry yeast
8oz butter (or margarine)
½ cup sugar
½ tsp salt
8oz diced pitted dates
8oz crushed nuts
For garnish:
Directions:
In a bowl mix the yeast with 1 tbsp sugar and 1tbsp flour
Add ½ cup warm water, mix well and set aside for about 1o minutes
In a large bowl or in a mixer bowl, mix the flour, the butter, the salt and the yeast while adding water as needed until a smooth and non sticky dough is achieved
Cover the dough with towel and set aside to rise for an hour
Take about ¼ of the dough and flatten it with a dough roller and then cut circles using a cup or a jay
Mix the dates and the nuts and put a tsp of it in the center of each circle.
Fold the circle over to create half circle and tuck the edges to seal the dough.
Mix the egg with 1tbsp water and brush the surface of all cookies
Sprinkle sesame seed on top and move them to a baking pan (it is recommended to cover the bottom of the pan with baking sheet to avoid sticking)
Preheat oven to 325 deg F and bake the cookies for about 45 minutes until golden